Dice games online
Real money dice games, is what this page teaches you more about. Games with dice such as Craps are one of the world's most famous casino games that most of us have seen at least once on TV. Even though dice games are so popular also in other forms where you don't play with real money, there are still very few games with dice where you can play for real money.
Most popular real money dice game
Craps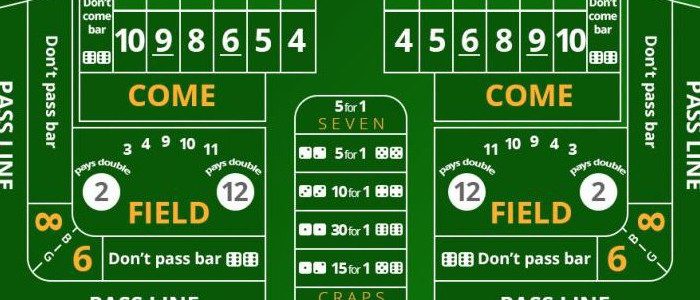 Craps is, as we have already mentioned, the world's most famous dice game with real money. We often see movie stars playing this particular game in real casinos.
People gather around the table, the dice are thrown and everyone bursts into screams when a win lands on the table. The game is actually no more difficult than that, i.e. you roll two dice.
What many people find complicated about this dice game in the beginning is the bets you can make. Just like on a roulette table, Craps has its own table where you place your bets.
If you want to know more about Craps and learn the rules of the game, we have put together an easy to understand guide to playing Craps here.
Summary
| | |
| --- | --- |
| House edge | 1,4% – 5,0% |
| Originated from | Arabic dice game called Al Dar |
Sic Bo

Sic bo is a lesser known dice game, but the vast majority of casino players know it.
The game originated in China and that is also where the game is most popular. Just like in Craps, it involves making bets on the SIc Bo table and then rolling the dice.
The biggest difference between these two games is precisely the game table where we bet.
You will find more info about the game and info on how to bet and play the game, here!
Summary
| | |
| --- | --- |
| House edge | 2.78% |
| Originated from | China |
Game shows with dices
What are game shows? It is a mixture of live casino games and other games such as slots, poker or even dice.
Game shows are thus live games that do not belong in the category of classic live casino games. In this game category we find, among other things, two games that are played with dice.
These are called Lightning Dice and Boom City. Below, we explain both of these in a little more detail.
Lighting Dice
Lighting Dice has an RTP of 96.21% and a multiplier of 1000x. The game involves predicting the three dice that are thrown.
The game is a mix of dice and multiplication. In short, you choose what the dice will land on and then a dealer drops those three dice into a box where the dice bounce and turn against the obstacles in the box until they finally come out and land. From here, profits can be multiplied.
A pretty easy game to play, in other words.
| | |
| --- | --- |
| House edge | 3,79% |
| Created by | Evolution |
Boom City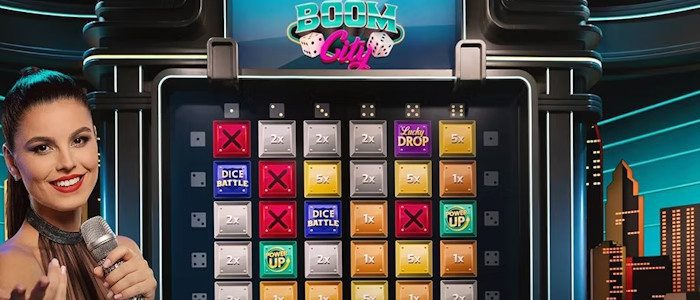 Boom City is another dice game in the Game Shows category. The maximum win in this dice game is 20,000 x.
The most interesting thing about this particular dice game is that there are several bonus games in this game where you can multiply your winnings enormously.
In short, you bet on two dice in this game. After this you get the chance to move on to one of 3 different bonus games which are Boom or Bust, Lucky Drop or Dice Battle.
| | |
| --- | --- |
| House edge | 3,79% |
| Created by | Pragmatic Play |
Where can I play these dice games online?
All these dice games are actually casino games that are available at all the online casinos presented here on our site. All games are available in a live casino environment and all online casinos offer a live casino where these games are available, in other words.
So regardless of which casino you choose, you will be able to play all 4 dice games. However, what you can do to get an even better gaming experience is to choose one of the best live casino sites together with a good live casino bonus that gives you more chances to win.
Here you will find the best live casino sites and all the most popular games in a live version. Or you can choose a casino that we recommend below!
Good live casinos with dice games